The Distinction in Research is an optional research path that recognizes a high level of engagement by a medical student in research.  The Distinction path is designed to provide opportunities for medical students who seek higher levels of research experience than would normally be available through a single summer research experience.  Working under the direction of a Burrell College faculty member, the Distinction path provides an intensive supervised research experience that mentors students in the process of designing, conducting, and disseminating research in a biomedical, clinical, community, or educational setting. Distinction in Research is achieved through the participation in summer research during the summer of the student's 1st and/or 2nd year, and through a repeated series of non-clinical research electives during the 3rd and/or  4th years.  Students who successfully complete the Distinction requirements will receive a Doctor of Osteopathic Medicine degree with a Distinction in Research annotation on her/his academic record.
Enhance research awareness and skills
Enhance critical thinking, personal, and communication skills, and to become a self-directed learner
Develop a mentoring relationship with Burrell College faculty member(s)
Engage in research and the creation of new knowledge
Gain a deeper understanding of the respective and associated disciplines
Enhance academic credentials 
The Distinction in Research is a selective admissions opportunity based on academic performance at the Burrell College of Osteopathic Medicine.  Admission requirements for the Distinction in Research are as follows:
Applicants must be in good academic standing in the College with no course failures at the time of acceptance into the program
Applicants must be in good academic standing 
Program Requirements and Expectations:
The Distinction in Research is a rigorous pathway that requires substantial effort and full-student commitment.  Participants are required to complete the following:
Summer Research Directed Study (6-credit hours)
3rd-Year Non-Clinical Research Elective (4-credit hours)
4th-Year Non-Clinical Research Elective (4-credit hours)
Formal research report
Research presentation in an openly advertised seminar setting
Summer Research Directed Study:
The Summer Research Directed Study course is a supervised research experience that is worth 6-credit hours and is required for students accepted into the Distinction in Research.  It provides the opportunity for medical students to participate in Burrell College faculty-driven research and creative scholarship during the summer.  The Summer Research Directed Study follows the Summer Research Experience schedule, which commences with Orientation Day and culminates with Medical Student Research Day.  All pieces of training and responsible conduct of research sessions that are a component of the Summer Research Experience are also required for students enrolled in the Summer Research Directed Study.  Please see the Summer Research Experience Schedule.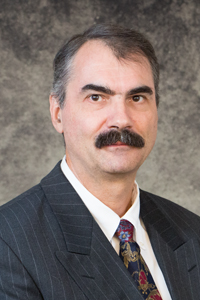 Harald M. Stauss, M.D., Ph.D.
Professor & Director of Student Research Office of Research and Sponsored Programs
MD, Mexico's National University
MS, Mexico's School of Public Health
PhD, Johns Hopkins University