Tucson Regional Academic Center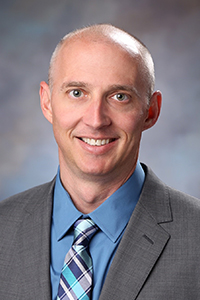 BS, University of Arizona
MD, University of Arizona College of Medicine
Meet a Preceptor from the Albuquerque Regional Academic Center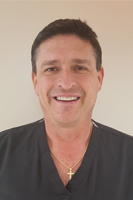 Dr. Rex Cooley became interested in medicine after suffering knee injuries resulting in surgery while in high school. He became a physical therapist and then went on to attend the Kirsksville College of Osteopathic Medicine in Missouri. He completed an internship in orthopaedics at Doctors Hospital in Columbus, Ohio and a residency in orthopaedic surgery at Doctors Hospital of Stark County in Massillon, Ohio. He is a board-certified orthopaedic surgeon specializing in knee, shoulder, and hip replacement procedures; sports medicine, arthroscopic shoulder and knee surgery, and fracture care. Dr. Cooley cares for patients of all ages and, in his free time, enjoys scuba diving, golf, and soccer. He is married with three grown children.
"I recently got back into precepting. I was an attending at the University of Arizona for five years after my residency and enjoyed it, so that's where my interest in teaching started. There are seven hospitals here in Tucson and the students will see a large elderly patient demographic. There are also a lot of residency options that the students will be exposed to while working here. I'm a general orthopaedic surgeon, so the advantage of rotating with me is that they will see physical exams of all sorts. I'm not just a knee or shoulder guy, so they will see shoulders and knees, but also hips, backs, wrists—the full gamut. When I'm on call, I also see all kinds of traumas. The biggest thing I can offer these medical students is a very thorough review of anatomy. I was a physical therapist, so I can also review a lot of the more conservative treatments that come before surgery."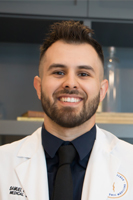 Samuel Richardson is from Peoria, Arizona. He attended Arizona State University where he studied psychology. He became interested in medicine doing ride-alongs with his dad, a captain for the Phoenix Fire Department. "I experienced his incredible bedside (or street side) manner firsthand and how he would help people and make them feel at ease in some of their most terrible and darkest moments," he said. Shadowing a family practice physician and an osteopathic vascular surgeon solidified his decision to become a DO. At Burrell College of Osteopathic Medicine, he is the president of the Integrative Medicine Student Organization, a Mental Health Task Force ambassador, and a member of the Student American Academy of Osteopathy and the American College of Osteopathic Emergency Physicians. Before medical school, he was a vocalist in a hard rock/metal band and he plans to play some open mic nights when he gets to Tucson. Richardson is married to a Neonatal/Pediatric Intensive Care Unit nurse and they have aspirations of one day opening their own clinic to serve the homeless in the northern Phoenix area.
"I see clinical rotations as a personal growth gold mine, in a way. I am very excited to finally interact with patients and discover my own path in medicine. I look forward to all of the opportunities to learn as much as possible and to become the best physician that I can be. Coming back to Arizona is definitely a full circle moment. It can be frustrating at times as an undergrad and volunteer because you want to help those in need and do so much even though you know so little. I feel elated that I will finally be given the opportunity to give back to my community and help my Arizona friends and neighbors in ways that I was unable to before. My ideal future consists of a life as an Emergency Medicine physician practicing in Phoenix with copious time spent with family and friends."