Burrell College is committed to a high level of integrity in all research and creative scholarly work and further understands that the responsible and ethical research builds public trust in discovery and dissemination of scholarly findings . As part of this commitment, the College provides both online and in person training opportunities for students, faculty and staff in areas of Responsible Conduct of Research (RCR). Online CITI training modules are accessible to all members of the College community and in person trainings are provided in various venues. RCR topics covered include but are not limited to research misconduct and questionable research practices; data management; scientific rigor and reproducibility; responsible authorship and publication; conflicts of interest in research; mentor/mentee responsibilities; collaborative science; civility issues in the research environment; laboratory safety, biosafety, and human subjects research; and societal, social, and environmental impacts of research.
Certain trainings are required to be completed before beginning work in either the BioScience Research Laboratory (BSRL) or the Human Physiology Lab (HPL). Below is a summary table of these trainings for students and faculty.

Online courses are completed through CITI Program training. Log in to CITI using the link provided in 'Additional Resources' below to add and complete the appropriate courses
In-person trainings are provided by the Office of Research. Details are provided in the "Laboratory Standard & Hazard Communication Training" section below.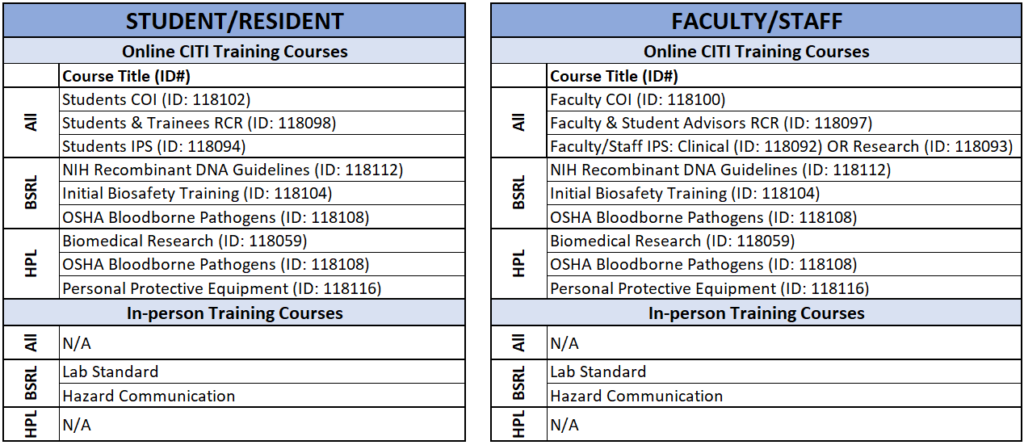 Laboratory Standard & Hazard Communication Training
Lab Standard and Hazard Communication Course are taken simultaneously.
The courses are offered quarterly; typically, in February, May, August & November.
Information on the next scheduled training will be posted here. To sign up, please use the registration link provided. · For additional information or questions contact: kmartinez@burrell.edu
Next Laboratory Standard & Hazard Communication Training:
Thursday, June 1, 2023
8:30am – 11:00am
Room 152/153
Chemical Hygiene Plan
Report A Spill